Cookie preferences
This website uses cookies, which are necessary for the technical operation of the website and are always set. Other cookies, which increase the comfort when using this website, are used for direct advertising or to facilitate interaction with other websites and social networks, are only set with your consent.
These cookies are necessary for the basic functions of the shop.
"Allow all cookies" cookie
"Decline all cookies" cookie
Customer-specific caching
These cookies are used to make the shopping experience even more appealing, for example for the recognition of the visitor.
Sendinblue Tracking Cookies
MORITZ24 Kids Trail Full-Suspension Bike
+++ Pre-order +++ Colours similar to the big MORITZ - photos to follow. +++ Delivery from...
more
+++ Pre-order +++ Colours similar to the big MORITZ - photos to follow. +++ Delivery from 1st February 2023 within 2-3 weeks +++
+++ Why pre-order? Why prepayment? Secure your bike for the outlined delivery date at the current price +++
Moritz24 - the full-suspension trail rocket which runs on the 29er principle. For kids from approx. 1.20 m (with dropper post from approx. 1.25 m).
Now with Manitou Junit Expert 120 mm and Manitou MARA KidsTuned shock … at a total weight of just 10.5 kg.
The full-suspension trail rocket
With MORITZ you can shred the roughest trails, ride demanding tours or take part in enduro races. No other full suspension bike for kids is as versatile. MORITZ is unbelievably potent on downhills and thanks to its unrivalled low weight, still strong on uphills. The kinematics were specially designed for low body weights. It is extremely plush but still very capable at climbing. The geometry is absolutely state-of-the-art, it is superlight and the equipment is high-quality, functional and robust.
Tyres for rough use
Upon request, we can equip your MORITZ24 with Schwalbe Hans Dampf 2.35 or Maxxis Rekon 2.20 tyres. Please indicate your wishes in the text field.
Frame
MORITZ24 aluminium 6061, single-joint full suspension with 12 mm x 142 mm thru axle. Dropper seatpost-compatible
fork / shock
Manitou Junit Expert 24", 120 mm, Boost 15×110 | Manitou Mara Inline 170x35
handle bar
VPACE AL 580mm mit 5 mm lowrize
cranks
VPACE MAX children's crankset, 120 mm, Q-factor 150 mm
Groupset
SRAM GX1 with 10-42 cassette and trigger
Brakes
Magura MT4 with HC1 lever and Magura Storm SL brake discs, 160 mm
Tyres
Schwalbe Rocket Ron 24 x 2.35, tubeless-ready
wheel set
VPACE 24SL, 24 spokes, DUKE Lucky Star rims, 23.5 mm inner rim width, tubeless-ready, SRAM XD freehub, rear 15x110 mm, approx. 1,300 grams
What our MORITZ can do
The relatively large wheels (24″) optimise rollover and also riding stability even at higher speeds. The modern geometry with a slack steering angle and the slightly shorter rear and ensure lots of fun off-road and lots of flow on the trail. The weight and components are, as usual, tailored to the youngsters. The tube dimensions of the frame were designed for the weight of the kids but can withstand even the heaviest loads - a simple, lightweight but efficient single-joint full-suspension bike without unnecessary frills. Thanks to special tuning of the shock and the clever position of the pivot point, the MORITZ system works very efficiently and enables super climbing - but the suspension can also be blocked at the fork and shock if necessary. The suspension travel is 120 mm at the fork and 125 mm at the rear. The high gear ratio ensures good responsiveness and efficient use of the suspension travel for riders with a lower body weight.
The 29er principle
Kids who ride 20 inch bikes by other manufacturers start out on 24 inch bikes with us. They especially benefit from the extra smoothness and stability. MORITZ is therefore more or less a 29er based on 20 - 29 inch wheels. Thanks to the larger wheels, obstacles are better negotiated and the young athlete gains from more riding confidence and also an increase in speed. What's more, it simply looks damn good - just like the big ones!
Range of use

The MORITZ24 corresponds to a category 3 mountain bike. Bikes in this category can also be used on rough trails, in rough terrain and on difficult routes that require good riding technique. Jumps and drops can occur here up to a maximum height of 60 cm. The MORITZ24 children's bike has been developed for a rider weight of max. 45 kg.
MORITZ24 Kids Trail Full-Suspension Bike Geometry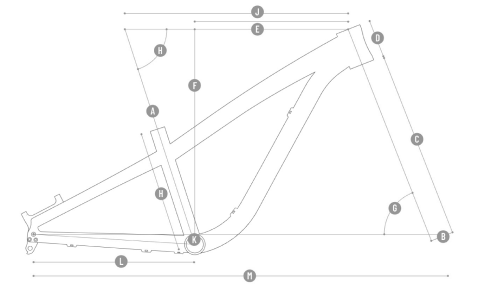 Fork installation height (C)
475 mm
The MAX & MORITZ children's mountain bikes can normally be ridden for two to three years from the beginning of the stated size recommendation and cover a maximum height growth of 20 cm - after adjusting the seatpost and stem.
Read, write and discuss reviews...
more
Customer evaluation for "MORITZ24 Kids Trail Full-Suspension Bike"
From:
PIERROT
On:
1 Jun 2021
Ma Fille vient d'avoir 8 ...
Ma Fille vient d'avoir 8 ans et roule avec moi sur les trails de 15/20% de pente et aussi en club enfant "enduro" avec son petit morizt 24, c'est un vtt incroyable pour les enfant , léger et très capable en descente comme en montée !
J'ai monté une cassette XO 10-42 et une ks kind shock, un Minion DHF 2.4 front exo 3c et un hans dampf à l'arrière.
Vélo plutôt cher, mais bien plus léger que tout les autres, ! je ne regrette pas mon achat !
Lise est trop contente de son 24 morizt , top VPACE !
From:
Admin
On:
1 Jun 2021
Merci and Happy Trails ❤️
From:
Juli
On:
12 May 2021
Nach langer Überlegung haben wir ...
Nach langer Überlegung haben wir uns kurz vor dem ersten Lockdown im vergangenen Frühjahr das letzte verfügbare Moritz 24 für unseren Moritz ergattert ;-). Super tolles Rad, macht jeden Ausflug/Trip/Trail mit und die versenkbare Sattelstütze ist ziemlich praktisch und gibt viel Sicherheit.
Das Max Trail war damals ausverkauft, hätte uns vielleicht vorerst auch noch "gereicht". Trotz des hohen Anschaffungspreises bereuen wir das Rad auf keinen Fall. Er fährt damit super gern und die Räder haben einen überaus attraktiven Wiederverkaufswert :-)... und es geht ja darum, dass die Kinder Lust und Spaß am Rad fahren, Touren und Familienausflügen, Trails haben oder eben die Leidenschaft dafür entwickeln können.
Das ist damit auf jeden Fall gegeben :-)!
Diverse Rundfahrten um diverse Seen, Leogang, Touren, Trails, damit im letzten Jahr schon alles mal gemacht.

Klare Kaufempfehlung, auch für die wertige Vorabeinstellung und Prüfung vor Versand.

Wir werden Kunden bleiben :-).
Liebe Grüße
From:
Andrej Hörl
On:
14 Apr 2021
Letzte Woche haben wir unser ...
Letzte Woche haben wir unser VPACE Moritz 24 bekommen, bzw. mein 7 jähriger Sohn Fabian. Bis dato kannten wir das Bike nur aus dem Internet und von Rückmeldungen erfahrener Biker. Trotz des höheren Preises haben wir es bestellt weil ich für meinen Sohn nicht das teuerste (es gibt noch teurere) aber das Bestmöglichste Bike haben wollte da wir viel auf Trails und in Bikeparks unterwegs sind und ich kann nur sagen, dieses Rad ist jeden Cent wert. Mein Sohn ist 126cm, also eher kleiner für sein Alter aber durch das leichte Gewicht (10kg - andere in der Preisklasse liegen bei 11,5kg +) und die perfekte Geometrie kam er sofort sensationell damit zurecht. Das Bike ist einfach unpackbar und ich kann es nur jeden ambitionierten Jungbiker empfehlen. Zusätzlich haben wir uns auch für die Dropper Post entschieden - er wollte es weil ich es auch hab;). Es ist einfach ein Hingucker und alle die sich ein wenig mit Bikes auskennen, wissen was dieses Bike kann und wer VPACE ist. Ein großes DANKE auch an das VPACE Team die sowohl per Mail als auch telefonisch immer Zeit hatten mir Auskunft etc. zu erteilen. In diesem Sinne freuen wir uns riesig über das Moritz und auf die kommenden Bikesaisonen.
From:
Danny Hippert
On:
23 Apr 2020
Ich fang mal mit den ...
Ich fang mal mit den Worten des Piloten an: Das Geilste Bike der Welt!
Dazu muss ich sagen, dass wir das Glück in unserem Freundeskreis haben, nun vier unterschiedliche 24" Fullys von namenhaften Fahrradherstellern vergleichen zu können.
Mein Sohn ist ca. 1,29 m und wiegt 29 Kg, das Bike passt also perfekt. Voriges Gefährt, Propain Frechdax 20", bei artgerechter Haltung. Anforderung an das neue Bike, 50% Bikepark, 30 % lokale Trails/Dirts und 20% Tour/Techniktraining. Sein Wunsch, ein Bike für Alles.
Darum habe ich mich bei seiner Größe für das 24" Moritz entschieden. Wir hatten das Glück das 24" Moritz mit einen 26" im Vergleich vorher und nachher fahren zu können. Und ja ich hatte so einige schlaflose Nächte vor der Bestellung, welches jetzt das richtige ist . 2.000€ für ein Kinderbike ist ja kein Taschengeld. Nach dem ich aber sein freudestrahlendes Gesicht bei jeder Fahrt sehe und die explosionsartigen Fortschritte bestaunen darf, bereue ich keinen Euro und möchte dem ein oder anderen mit dieser Bewertung helfen, das richtige Fahrrad für seine Tochter oder Sohn zu finden.
Ich konnte mir jetzt ca. einen Monat ein Bild auf lokalen Trails, Dirt Anlagen und beim Techniktraining auf dem Parkplatz machen. Leider steht durch die aktuelle Lage der Bikepark- Besuch noch aus. Da wir aber im Ruhrgebiet relativ anspruchsvolle kurze Trails haben (ja haben wir wirklich ), konnte ich mir dennoch ein gutes Bild machen. Die Komponenten sind kindgerecht gewählt, ergonomisch, leicht und aus meiner Sicht stabil genug für jeden Bikepark- Besuch. Bei der Bereifung haben wir uns bei einen Hans Dampf vorne und den Rocket Ron hinten gefunden. Das Steuerrohr habe ich 30 mm länger gelassen und mein Sohn empfindet die 20 mm Position bis zum Vorbau für optimal.
Das Upgrade der E-Thirteen Kassette 9-46 mit einen 28T Kettenblatt kann ich nur empfehlen. Die erste Tour von 26 Km und ca. 300 Höhenmeter wurde mit den ausgepowerten Worten beendet:" Das war die schönste Tour, die wir je gemacht haben!" Mein Sohn würde normalerweise einen Lift JEDERZEIT vorziehen. Ich würde es im Vergleich zu anderen Bikes mit einer gewissen Leichtfüßigkeit im Uphill beschreiben, ob auf Schotterwegen oder im technischen Uphill. Der Weg zu unseren Hometrail lässt sich durch einen längeren flachen oder einen SEHR steilen kürzeren Uphill bewältigen, bei dem so mancher Erwachsene schon abgewunken hat. Mein Sohn wählt seit einem Monat motiviert den Steilen (ja ich gebe zu, der Weg ist schneller ). Die Sitzposition empfindet mein Sohn als sehr angenehm. Das Fahrwerk funktioniert aus meiner Sicht hier sehr gut und selbst wenn es mal im Wiegetritt bergauf geht, blockiert er einfach den Dämpfer und ab geht's.
Die Trail- und Downhill-Performens möchte ich mit den folgenden Worten beginnen "ICH HABE ANGST". Die Fortschritte, die mein Sohn in einem Monat gemacht hat, sind beeindruckend. Ein Trail wird mit einer Geschwindichkeit gefahren, WOW. Ein Wurzelfeld verliert seinen Schrecken, die Sprünge werden höher und das Bike ist dabei noch so leise. Es macht mir selber beim Zusehen/Zuhören solch eine Freude, TOP VPACE! Für die Einstellung des Fahrwerks haben wir ein wenig gebraucht, ich habe mich in 5 Psi Schritten auf die optimale Einstellung rangetastet. Danach hatten wir aber das optimale Setup gefunden, seitdem funktioniert das Fahrwerk ausgewogen im flowigen Trail, über Wurzelfelder bis hin zu Sprüngen über 4-5 m Tables. Selbst kurze Steilstücke werden (meistens) ohne Furcht mit der Geometrie überwunden. Was mich am meisten verwundert, wenn wir zum Dirtpark fahren, bleibt sein 20" Dirtbike zuhause und er nimmt das Moritz mit. Auch hier kommt er sehr gut damit zurecht und hat in kurzer Zeit einige "Schüppen" draufgelegt. Beim Trial- und Techniktraining würde ich es als leicht und spielerisch beschreiben. Die Magura MT 4 Bremsen findet mein Sohn im Vergleich zu seinen alten Shimano Deore BL-615 besser zu dosieren, was er mir durch kurze kontrollierte Nosewheelies zu verstehen gab.
Wie sich das Moritz im Bikepark macht, bezogen auf die Performens oder der Haltbarkeit wie zum Beispiel der Laufräder, kann ich leider noch nicht sagen. Aber das, was ich bis jetzt an Eindrücken sammeln durfte, ist sehr vielversprechend.
Da wir in meinem Freundeskeis oft im Vorfeld über die Rahmenstabilität diskutiert haben, möchte ich auch hier unseren (Freundeskreis) Eindruck kurz und knapp beschreiben, in der Gewichtsklasse: geht nich kaputt. Für den reinen Bikepark Gebrauch mit Lift würde ich im Vergleich behaupten, liegen die anderen Bikes durch das Gewicht und mehr Federweg satter im Trail, was sich sicher bei Steinfeldern mit direkter Linienwahl oder bei großen Sprüngen positiv auswirkt. Aber Hand aufs Herz wer hat diese Tochter oder Sohn zwischen 1,20 – 1,40 m der das ausnutzt, aus meiner Sicht die wenigsten. Aber auch hier ist mein Eindruck, dass das Moritz in der Luft verspielter ist.
Für mich wurde von VPACE kein Trail-Fully gebaut, sondern ein Kinderoptimiertes Enduro, was in seinen Allroundfähigkeiten seines Gleichen sucht und einem Kind seine eigene Entwicklung bestimmen lässt. Ob Tour, Trail, Enduro, Bikepark oder ein kleiner Tom Öhler, mit dem Moritz lasst Ihr euer Kind entscheiden, worauf es Lust hat. Ich bereue meine Entscheidung nicht und freue mich auf spannende Abenteuer mit meinem Sohn und Moritz!
Die Beratung und Abwicklung durch VPACE war vorbildlich und ist nur zu empfehlen.
Nachtrag über die Bikepark- Eigenschaften folgt!
From:
Admin
On:
23 Apr 2020
From:
Nicolai Aaboe Kallestrup
On:
22 Apr 2020
My son Magnus rides the ...
My son Magnus rides the MAX24 and MORITZ24, both bike are so awesome. Great geometry that fits the young riders perfect. Low weight, great frame design and top components, make the bike a first choice in many ways. Further more the bike is just beautiful and sets a new standard for how a kids bike should be and perform. MORITZ24 works great for all kind of trails, but have of cause a advantage when it goes down hill, with jumps, berms e.g.
From:
Anna
On:
11 Jan 2020
Nach nun drei Monaten mit ...
Nach nun drei Monaten mit dem Moritz24 möchten wir es nicht mehr missen!!! Das Fahrrad kann einfach alles! Ob Bikepark, Touren oder Singletrail, das Rad hält was es verspricht. Die kinderfreundlichen Komponenten tragen dazu bei, dass sich die Kids rundum wohl fühlen. Als Elternteil hat man nun die Aufgabe an den eigenen Fähigkeiten zu arbeiten, denn für die Kids gibt es ab jetzt kein Halten mehr ;-)
Danke nochmal an Sören und sein Team für den tollen, stets freundlichen Service!!!
From:
Sascha Schäfer
On:
13 Sep 2019
Nachdem ich anfänglich ja lange ...
Nachdem ich anfänglich ja lange gezögert habe, so viel Geld für ein Kinderrad auszugeben, bin ich nun um so mehr davon überzeugt, daß es sich gelohnt hat! Das Rad ist super abgestimmt, und die Dämpfer/ Gabel sprechen trotz Kindergewicht gut an. Mit der Übersetzung fahren die Kinder sogar die Berge halbwegs ohne Meckern hoch. Der Leistungssprung durch den Umstieg von 24 Hardtail mit 1STAir Federgabel auf das Fully ist enorm gewesen. Und die leuchtenden Kinderaugen nachdem er auch die anspruchsvollen Wurzelpassagen wie der große Bruder gefahren ist, sind unbezahlbar!! Mein Sohn ist 125cm und es passt jetzt grade genau, wobei das 29er Prinzip für die kleinen mich ohnehin schon lange überzeugt hat. Er ist schon seid einem Jahr auf einem 24Zoll Rad unterwegs – ich würde es nicht mehr anders machen. Team und Abwicklung waren top. Kann ich nur weiterempfehlen!
From:
Admin
On:
13 Sep 2019
Danke für dein tolle Rezension!
Write an evaluation
Evaluations will be activated after verification.